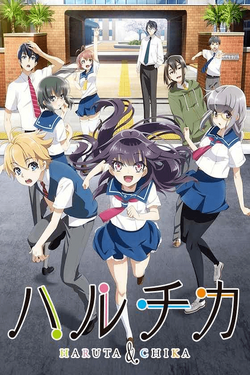 Haruchika: Haruta & Chika (ハルチカ 〜ハルタとチカは青春する〜, Haruchika: Haruta to Chika wa Seishun Suru, lit. Haruta and Chika Enjoy Their Youth?), produced by P.A.Works and directed by Masakazu Hashimoto, premiered on January 7, 2016 on Tokyo MX. Character design is provided by Namaniku ATK.
Synopsis
Haruta and Chika are members of their high school wind instrument club that is on the verge of being shutdown because there are only four members. The two are childhood friends that got split up but reunited nine years later, and they spend their days studying and also trying to recruit new members. When a mysterious event occurs within their school, they band together in order to solve the mystery.
Episode Covers
Episode List
Episode
Title Screen
Title
Air Date
1
メロディアスな暗号
Melodious Cipher
January 7, 2016
2
クロスキューブ
Cloth Cube
January 14, 2016
3
退出ゲーム
Exit Game
January 21, 2016
4
ヴァナキュラー・モダニズム
Vernacular Modernism
January 28, 2016
5
エレファンツ・ブレス
Elephant's Breath
February 4, 2016
6
スプリングラフィ
Springraphy
February 11, 2016
7
周波数は77.4MHz
The Frequency is 77.4 MHz
February 18, 2016
8
初恋ソムリエ
First Love Sommelier
February 25, 2016
9
アスモデウスの視線
The Gaze of Asmodeus
March 13, 2016
10
ジャバウォックの鑑札
The Jabberwock's License
March 10, 2016
11
エデンの谷
Valley of Eden
March 17, 2016
12
共鳴トライアングル
Sympathy Triangle
March 24, 2016
Community content is available under
CC-BY-SA
unless otherwise noted.